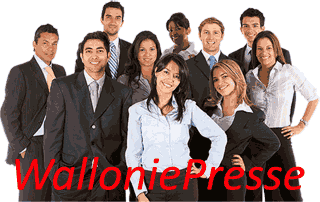 Journalists and contacted media list in Blegium

By filling out this form, you may reach most of the Belgian press actors; i.e., over 1.100 journalists
In addition to many decision makers in the economic, politic, cultural, and artistic Belgian world.
French-speaking Belgian journalists
30 Millions d'Amis
AB3
Acouphènes-Info
Actifs, le magazine de la Carte Senior
ACTV (Antenne Centre Télévision)
AIR & COSMOS
aljaliya24
Alter Echos
Ambiance Culinaire / Inside Lifestyle / Voeding & Koks
Annuaire Photo Cine Vidéo Son
Antenne Centre
Athena (nouvelles technologies wallonnes)
Atrium (L')
Auto Loisirs (+)
Auto Trends
AutoGids
AutoHebdo
Autonews
Autopress
Axelle
BART International
Beaux Arts magazine
BELPRESS
Bel RTL (+)
BelgAuto
BFM Radio (+)
Bijoux-magazine
BIG JIM (B2B)
BIOINFO
BIS et DIGEST (social)
Bizz
BISTRO NEWS
BRF (Radio belge de langue allemande) (+)
Bruit de papier (F)
Bruxelles News
Bulletin social
Business ICT
Café Revue
Canal C
Campus Magazine
Cap Liberté
Cash
Catering (cuisine collective),
Chasse & Nature
Cheval Evasion
Cheval Magazine
Ciel FM
Ciné-fiches de Grand Angle
Commerce & Industrie
Code magazine (art)
Coup d'oeil
Courrier de l'Escaut
CRISP (le)
Déco-Idée
Décors/Bâtir 2004
Demain le monde
Designers Week-End News
Design Magazine
Dynamisme Wallon
Editions de l'Avenir
El Correo
Electronic News & High Tech
ELLE Belgique (+)
Entreprendre Aujourd'Hui
EOS-magazine
Equilibre revue (social)
Escape magazine
EuroBRU
Europe Diplomatic Magazine
Europe et vous
Europe Information Service (journaliste au)
Europnews
FEDERATION DES TELEVISIONS LOCALES
FEDERAUTO magazine
Femmes d'Aujourd'hui(+)
Flair l'Hebdo (+)
Fleet & Business
Flux News
francbelge
Francophonie vivante
Gaël
Gagner & Réussir Magazine
Gazoline
Gondola Magazine
Grand Tourisme
Grain & Pixel
Grenz-Echo (+)
Green & business
Groupe de Presse Libre Belgique et Dernière Heure (+)
Guide "Brussels"
Hainaut-Tourisme
Health and Food
Hiboo
Hippo News
Horeca Magazine (+)
Hotel Business
HR Magazine
HR Today (ressources humaines)
HypeSociety
Idearts
IECHC
IFPTA Journal
Imaginet
Inrocks
In Vino Veritas
Independant et Entreprise
Info-Mods
Internet - Travelling news
Inter Press Belgium
Jardins et décors aquatiques
JEUDI SOIR Link
Je vais construire
Job Magazine
Journal de droit fiscal
Journal de l'Architecte
Journal des Belges à l'Etranger
Journal des 3 Frontières
Journal des enfants - Coup d'oeil
Journal du golf
Journal du Médecin
Journal du Pharmacien
Journal Métro
Keskispas
L'Animation
L'an News
L'Appel
L'Art même
L'Avenir
L'Avenir du Luxembourg
L'Avenir Verviers
La Chronique
La DH (Dernière Heure/Les Sports - Sport) (+)
La Gazette de Liège
La Gazette des Sports
La Libre Belgique(+)
La Libre Match
La Meuse Verviers
La Meuse (+)
La Nouvelle Gazette Entre-Sambre et Meuse
La Province de Liège
La Semaine d'Anvers
La Tribune de Bruxelles
La Vie bruxelloise
Le Break
Le Carnet Vert
Le Courrier de l'Escaut
Le Courrier Plus
Le Calumet
Le Guide des Connaisseurs, Magazine du Goût
Le Jour (+)
Le Journal des Belges à l'Etranger
Le Journal du Net
Le Journal du Temps Libre
Le Ligueur
Le magazine de l'économie sociale
Le Monde du Vélo
Le monde du recrutement en BeLux
Le Moniteur Automobile
Le Petit Cobralien
Le Progrès
Le Quinzième jour du mois
LE RAIL
Le Sillon belge (Editions rurales)
Le Soir (+)
Le Soir Magazine
Le Soir, l'Agenda du MAD
Le Soir, Les Routes du Soir
Le Vif / L'Express(+)
L'Echo (+)
L'Echo des Bois
L'info
LEONews
Les Ciné-fiches de Grand Angle
Les Jardins d'EDEN maison, jardin, gastronomie.
L'appel
L'Essentiel
L'Eventail
L'Evénement
Liberty TV
Liège Province d'Europe
Liège(04)
L'Occidental
Lou
L'Usine Entreprise
Ma Santé
Media Marketing
Men magazine
Metro
MINT, radio Pop-Rock
Moi Je Magazine
monmagazine.eu
Moto 80 (+)
Nature & Environnement
Net Evens
Netcetera
News-Mag
No Télé, Télévision Régionale du Hainaut Occidental
NORWESTPRESS
Notre Jardin
N'vy Luxury magazine
O2 BIKERS (+)
Objectif Prévention
P & B (Papeterie & Bureau)
ParentingFashion
Paris Match
Parole de Mamans
Passe Partout (+)
Passage d'encres
Passion Haute Horlogerie
Photoscoop
PC World
Plus Magazine (+)
Psychologies Magazine
Publilink
Qwentes
Racing revue
Radio "Tcheuw Beuzië"
Radio Alma
Radio Contact (+)
Radio Judaïca Belgique
Radio NOSTALGIE
Radio Sensations
Renaissance
Revue Générale de Fiscalité
REVUE GOLF
Revue Végétarienne
Réinventons l'énergie
Réserves Naturelles Magazine
RCF Liège Radio
RTBF Centre de production de Bruxelles (+)
RTBF Centre de production de Charleroi (+)
RTBF Centre de production de Liège (+)
RTBF Centre de production de Liège Liège/radio (+)
RTBF Liège Matin
RTBF Rédaction Sport Radio
RTBF radio "Radiolène" (région Verviers)
RTBF Radio (+)
RTC Télé-Liège (+)
RTL (+)
RTL TVI - Liège
SABAM Magazine
Seniorplanet
Sherpa
Skynet Web Magazine
Smart Business Strategies
Sos Pollution
Studia diplomatica
SPECTACLE
SportFootMagazine
SPORT ET VIE
Sport International
SPOT TV NEWS
Star TV
Syndicats- CG Info
magazine Staal Acier
Strass Belgique
Success
Sud Presse (+)
Sud radio
télé Moustique(+)
Télé Mons Borinage
Télépro Magazine
Télésambre
Télévesdre
Tendance
Test-Achats / Budget Hebdo
Test Santé
The Ticket magazine
Top Santé
Touring
Tradition's
Transport Echo magazine
Travel Magazine
Trends Magazine (+)
Trends Tendances
Tribal Mag
Truck & Business
Truck Management
Truck Master
Tu bâtis je rénove
TV5MONDE
TV Lux
Vivacité (RTBF) (+)
Vlan
Voilà
Votre santé
VOX Magazine
WALLONIE ESPACE
Warehouse & Logistics
Week-end l'Express
Zone80 (radio)(+)

DUTCH-SPEAKING BELGIAN JOURNALISTS
4instance
6minutes Press bvba
Actuapress
Antwerpenmanager
Beter bouwen en verbouwen
Boer&Tuinder en Landbouw&Techniek
Bouwkroniek - Weekblad voor Bouw en Industrie
Brussel deze Week & Agenda
Brusseldezeweek
Business Travel Magazine e.a.
Car & bus magazine
Confederatiebouw
CORPORATEPLANNER.be
Creative-Pers
De Morgen
De Standaard
De Standaard
De Tijd
De vlaamse ondernemer
De Zondag
Euroset
Galbertus Media
Gazet van Antwerpen
Geluid van papier
Grensoverschrijdende televisie
Groupe PM
Guido
Het Belang van Limburg
Het Laatste Nieuws
Het Nieuwsblad
Het Nieuwsblad Antwerpen
Het Nieuwsblad Vlaams-Brabant
Horeca Revue
HR Magazine
Inboxmagazine
InfoTravel
Karaat
KREO
Landbouwleven-le Sillon belge
Livios
Maks
Managermagazines
Meeting Europe
Modito
Motorhome abc
Move X
Muhka
Oldtimerdreamcar magazine
Ondernemers in West-Vlaanderen
Plus Media
Quality in Meetings
Redak.be
RendEvenement
Reprobel
Science For Life en Orthofyto
Smaak
Socius
Taptoe
The Office
Tijd Agenda
Transporama
Truck & Business,
Vakbladen Professional Media Group
Vakbladen van Boerenbond
Verstandig Bouwen en Renoveren
Verstandigbouwen
VRT
VT4
VT4 Television
WaalsWeekblad
Weliswaar
Westkustmedia
WKB
Zone 02 - 09
Zwerfauto magazine
CORRESPONDENTS FOREIGN MEDIA
AFP (Agence France Presse)
6bears Magazine
Agence d'Information de Russie "Novosti"
Agence Africamédia
AL HADAT EL WATANI
AL HIWAR TV
ALJAZEERA SAT CHANNEL
ATS - Suisse
AUTREMENT DIT (économie) (Fr.)
DIARIO DE NOTICIAS
ENA-HAITI
Euroturk Agency
Health and Food
La Gazette de Genève
La Voix du Luxembourg (Lux.)
La Voix de Montréal
Le Courrier des Balkans
Le Figaro
Le Monde (Fr.)
Le Soir Luxembourg
Lucky day (NL)
Luxemburger Wort (Lux.)
Match (Fr.)
Meuse-Rhine journal (NL)
Middle East News Agency (MENA)
NepTV (Nord de la France)
Nord Eclair (Fr.)
Population Data (Ca.)
Radio France internationale (Fr.)
Radiocom Pro (Fr.)
RADIO ALGER CHAINE 3
Teddy Crispin Communications
The Guardian
Le Devoir. (Canada).


AGENCY AND INSTITUTIONAL
Administrateurs de société
Agents artistiques
Ambassade de Belgique à Paris
Ambassade van België - Awex Nederland
Attaché commercial Awex Ambassade de Belgique Canada
Attaché commercial Awex Ambassade de Belgique France
Attaché commercial Awex Ambassade de Belgique New Delhi
Attaché commercial Awex Ambassade de Belgique Turquie
Attaché de presse parlementaire
Attaché Economique de la Région Wallonne en Turquie
Attaché économique de la Région Wallonne (AWEX)
Attaché(e)s de presse
Collaborateur(s) parlementaire(s)
Comité Information publique des Alcooliques anonymes
Conseil(s) en entreprise
Conseillère emploi
Conseillère en relations internationales
Consultant(e)s en communication
Diplomates
Directeurs artistiques
Directeur de centre culturel régional
Direction Générale / Responsable Presse
Europe Information Service
Gestionnaire des MRPA/MRS (Maison de repos)
ISOPRESS-SÉNÉPART
Maison de l'entreprise wallonne auprès de l'Europe
Organisateur(s) d'évènement culturel
Production audiovisuelle
Promoteur artistique
Responsable(s) marketing
Secrétaire(s) d'ambassade
Service des Relations Publiques de la Province de Hainaut


Clic here to send your press-release
---


French version |